The one-and-only Ina Garten proved that she was the Quarantine Queen with her massive happy hour cocktails, fresh-cut flowers on her dining table, and, of course, her endless array of comforting, festive recipes that elevated yet another meal at home. However, Ina has been reminding us lately that she also has plenty of travel advice to offer. It's her first time back in Paris since the pandemic began—and you better believe we're following along and taking notes.
We've rounded up all of Ina's favorite spots in Paris, both from her Instagram posts and advice from TV shows and blog posts past. While you dream of your return to one of VERANDA's favorite cities (after all, it's our top destination to visit in 2022), fire up that oven to whip up Ina's French Apple Tart recipe and blast her Parisian Spotify playlist to get you in the mood. Here are some ideas to inspire you to plan a Paris getaway à la the Barefoot Contessa.
Where to Eat in Paris
Naturally, the haute home cook with more than a dozen cookbooks under her belt has featured numerous local cafes and markets while on her Parisian reunion tour. The Barefoot Contessa's first stop was at the legendary Café de Flore, which offers the Parisian dining experience of our American dreams. While Ina and Jeffrey seemed to have popped in for a simple post-flight pick-me-up of rosé, chips, and lemon pressés, Café de Flore is one of the city's most iconic dining institutions (which is really saying something). Pop in for breakfast, lunch, dinner, or a late-night snack, as this 19th-century café is open nearly all hours of the day.
More From Veranda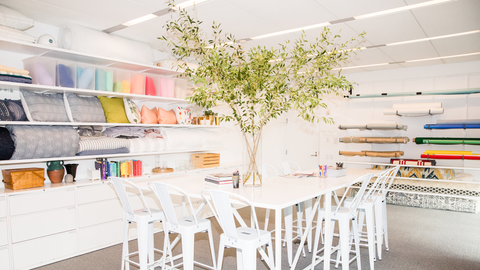 Enjoy Ina's "lunch of champions" at the lively Café Varenne in the 7th arrondissement—which, according to her, is a green salad with warm goat cheese and a side of fries. Other favorite personalities from Nancy Meyers to Juliana Marguiles chimed in to share their love for the restaurant, so keep your eyes out on your visit.
Of course, part of the fun for food lovers in France is visiting all the specialty shops, from bakeries to fromageries. Ina is lucky enough to live right next to two of Paris's best: Poilâne, an iconic bakery with locations around the city and Barthélémy in the 7th arrondissement. Poilâne has been making spectacular breads, pastries, and more for 90 years while Barthélémy is a delightful, old-school cheese shop filled with regional and local delicacies like herb-topped bouyguette, royal briard, and many, many more. However, the crème de la crème of specialty food shops, according to Ina, is La Grand Épicerie de Paris, which takes up an entire city block on the 7th arrondissement. You'll find everything you need to cook a quintessential French meal, plus some of the country's best bottles of vino. Make sure to bring your copy of Barefoot in Paris for meal inspiration.
If you're looking for a romantic night out that feels festive but not overly stuffy, Ina recommends an evening at Bistrot Paul Bert, via the Ask Ina column on her website. She notes that the owners have two bistros on the same street, so be sure to stop at Ina's favorite on 18 Rue Paul Bert in the 11th arrondissement to enjoy beautifully plated yet unpretentious dishes and a spectacular wine list. Be sure to check out our editors' favorite restaurants in Paris for more drinking and dining inspiration.
Where to Shop in Paris
We love that Ina's first stop in Paris (after a glass of wine, of course) was at her favorite flower shop, Adriane M., to freshen up the apartment because "Paris isn't Paris without a bouquet of flowers," according to the TV star. Indeed, Ina. According to Instagram, she's been twice on her trip so far, and we can't wait to source more Parisian floral inspiration from The Barefoot Contessa.
As an entertainer extraordinaire, Ina also has a penchant for beautiful table linens, and Paris is home to some of her favorite decorating destinations. Vis-a-Vis is a long-time favorite of the cookbook author, and she lists the brand as one of her favorite sources in Barefoot Contessa Foolproof. You'll find handmade table linens (and more) that are sure to become instant heirlooms upon your return home. Don't miss our editor-adored Parisian shopping destinations for those on the hunt for all things interiors, jewelry, gifts and more.

Related: Join Us on a VERANDA Field Trip to Paris in Spring 2023
Where to Stay in Paris
Ina and Jeffrey have their own apartment in Paris, which happens to be walking distance from many of the featured destinations, but you just may spot her sipping a whiskey sour at Hotel Le Meurice, Dorchester Collection from time to time. The Barefoot Contessa featured the gorgeous five-star hotel in a 2016 Valentine's Day special, titled "Barefoot in Paris," on Food Network, and it also happens to be one of our favorite design-centric hotels in Paris. The 18th-century property is not only home to an Ina-approved bar, but it also has a spectacular Valmont spa (the only in Paris!) and sumptuously appointed rooms that offer postcard-like views of the city.

https://www.veranda.com/travel/a40013045/ina-garten-guide-to-paris/