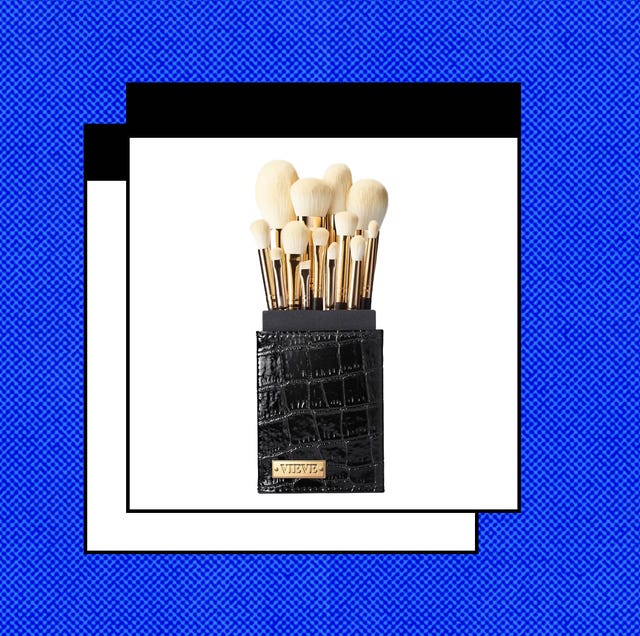 courtesy of brand
Trying to figure out which makeup brushes to buy is something we've often grappled with, after all, a fancy brush set is an investment piece and can often ring in at a substantial price tag (especially if you're after high-quality). If you never know where to start when it comes to finding the best makeup brushes, look no further. Whether you're looking for a cheap brush kit that won't break the bank, or you want a professional-worthy set, these are the top-rated tools in the UK.
Different brands offer different pros and cons, but a good place to start is carrying out a few quality checks. According to Zoeva founder Zoe Boiku, if the tip of a brush feels rough and that the individual bristles are thick and blunt, they have been cut into shape (a bad sign). "It should be laid into shape in a specific mould, and bound together with string." Look out for brushes with several layers of lacquer on the handle, which protects the brush handle from swelling in humid air. Spectrum founders Sophie and Hannah Pycroft also advise choosing "densely packed" brushes or a weighted brush, which helps with leverage and control, and a copper or nickel ferrule (the metal part where the bristles meet the handle), as aluminium ferrules dent more easily.
What are the best makeup brushes for beginners?
You can build up a kit one by one, but if you buy your brushes in a set, the price per brush will likely be a little less. It might be best to invest in a smaller set of brilliantly crafted essential brushes (we love Real Techniques Everyday Essentials). The sustainability-focused among you could also try this super cute, minimalist EcoTools set. Another small but mighty kit is MyKitCo's My Essential Makeup Brush Set, which is a bit more of an investment, but is an expertly crafted collection of brushes that'll make your morning beauty prep a total dream.
What's the deal with all the other brush sets?
You can also pick a set based on the area of your face you're keen to zoom into. If you're an eye makeup enthusiast, look no further than Morphe's 4-piece kit, which for under £12 brings you everything you'll need to up your smoky eye game.
If aesthetics mean a lot to you (zero judgement, it's all part of the makeup brush lust), we're all about the millennial pink Lottie London kit.
…And for the ultimate indulgence? Rae Morris's vegan, Japan-based offering (scroll down to read more about this groundbreaking (albeit boujie) technology.
Meet our favourite makeup brushes:
Advertisement – Continue Reading Below
1
Best Makeup Brushes for: Chic Design
The Full Expression Brush Set
VIEVE
cultbeauty.co.uk
£250.00
Vieve is makeup artist and YouTuber Jamie Genevieve's baby and so far we have been beyond impressed with everything we've tried.
These chic synthetic brushes mimic the cuticle of natural hair so you'll find yourself absent mindedly stroking your face with them.
My favourite thing however is that if you're a makeup newbie, each brush is clearly labelled with its exact purpose. So you never have to wonder which one is the foundation brush again.
– Laura
2
Best makeup brushes for: Beginners
Real Techniques Everyday Essentials
Real Techniques
Amazon
Real Techniques Flawless Base contains four of the handiest makeup brushes around.
There's a rounded fluffy brush, which works a treat for powders, bronzers or blushers. A tiny precision brush, that'll make quick work of pin-point concealing, a small fluffy brush for highlighting or baking, and finally, a dome-shaped buffing brush, which works perfectly for blending out foundation.
Oh, and if that wasn't enough, there's also a Real Techniques blending sponge in the kit as well.
3
Best Makeup Brushes for: All the essentials
Katie Jane Hughes 11 Piece Set
Spectrum Collections
cultbeauty.co.uk
£100.00
If you're obsessed with makeup artist Katie Jane Hughe's looks, you should know that these brushes are SO HER.
The delicate and intricate shapes make these feel more like paint brushes than traditional makeup brushes and if you can't afford the main set, this edit contains the 11 must-haves for £100.00.
– Laura
4
Best makeup brushes for: A Tight Budget
Lottie London Ombré Brush Set
Lottie London
lookfantastic.com
Purse-friendly beauty brand Lottie London is an option if you're seeking an affordable starting point when building out a kit. You can buy the brushes individually (all priced between £5-8 individually), or kick things off with this set which includes a Dense Buffer Brush, a Tapered Bronzer Brush, a Tapered Highlighter Brush1, a Pointed Concealer Brush and a Tapered Blending Brush.
The pretty pink and coral brushes come with matte, soft-touch handles and ultra-soft synthetic bristles. Amazing quality at a mega affordable price- that's what we like to see.
5
Best Makeup Brushes for: Insta points
x Ariel Signature Look 12-piece face and eye brush set
MORPHE
selfridges.com
£95.00
Makeup by Ariel is Kylie Jenner's makeup artist and his debut brush collection with Morphe did not disappoint.
Yes, these are pricer than regular Morphe brushes, but I can attest that the quality is far superior to Morphe's regular line.
Not only are the brushes super soft, but they are designed for modern makeup styles, like the double ended eye brush for all you brow concealer addicts.
– Laura
6
Best Makeup Brushes for: Softest Bristles
Essential Face Brush Set
Peaches & Cream
fabulousmakeup.co.uk
£25.00
If you are a Liverpool native you will undoubtedly already know about Peaches makeup, but if you are a Southerner like me, you might have only just discovered them.
These vegan brushes use luxe synthetic fibres so they are super soft and completely none scratchy.
The shapes of these brushes are unique and make foundation application a dream.
– Laura
7
Best Makeup Brushes for: 100% vegan
Spectrum 10 Piece Essential Brush Set
Spectrum
asos.com
There isn't one dud brush in the whole brush kit, each and every one of them is oh-so useful. The 10-piece set has three brushes for the face that will work with powders and foundations. Plus, seven brushes for the eyes, ranging from a precise pencil tip, to a soft, buffing brush – so even serious beauty lovers will have all bases covered. Made with synthetic, ultra-soft bristles they're 100% cruelty-free.
8
Best Makeup Brushes for: Versatility
The Essential 12 Piece Brush Collection
Mima Cosmetics
mimacosmetics.co.uk
£34.99
There's nothing worse than a brush set with brushes you never use, thankfully this is not the case with Mima Cosmetics.
Founded by Mariam Musa, this 12-piece set is not only incredibly affordable at £34.99, but it's also aesthetically pleasing.
The ombre brown handles and earthy synthetic bristles are so chic you will want to leave them on display in your bedroom.
– Laura
9
Best makeup brushes for: Clever Design
My Essential Makeup Brush Set
MYKITCO.
beautybay.com
One of our all-time favourite makeup brush brands, MyKitCo was founded by MUA James Molloy and his partner, Alex Thompson.
They're incredibly well-crafted brushes, with weighted handles which make for a very satisfying experience – especially if you find yourself a little unsteady at times.
Each brush across the entire range (and within sets) is colour coded according to whether they were designed for pros or beginners (grey means suited to all, whereas blue indicates a specialised function).
10
Best makeup brushes for: Sustainability
So Eco Face Kit
So Eco
lookfantastic.com
Sustainability warriors, this one goes out to you. This set of four So Eco brushes are made from highly sustainable or bio-degradable materials. Plus, they're vegan and cruelty-free.
It's a low-key set of on-the-go brushes which comprises a Complexion Blending Brush, Multitasking Blush Brush, Micro Foundation Brush and Flat Shadow Brush.
11
Best makeup brushes for: Eye Makeup Enthusiasts
Eye Got This 4-Piece Eye Brush Collection
Morphe
cultbeauty.co.uk
£12.00
If you're all about the eyes, Morphe's Eye Brush collection deserves a spot on your dressing table. The four-piece is a brilliantly curated selection of eyeshadow brushes, each one super useful for crafting your way to flawless eye makeup.
The kit contains an Oval Shadow Brush, a Pro Firm Blending Crease Brush, a Tapered Mini Blender Brush and an Angle Liner Brush – everything you'll need to nail your next lewk.
12
Best makeup brushes for: Inclusive Design
The Flex Collection
Kohl Kreatives consider themselves a company which empowers makeup users when experimenting with cosmetics, and the Flex Collection brushes couldn't be better proof that the brand is succeeding in that mission.
These brushes stand upright alone, and are designed to give extra grip to those who might need it. The brand also creates tutorials to assist those with additional motor control requirements in using the tools to their best advantage.
13
Best Makeup Brushes for: Professionals
Personal 8 Brush Set and Plate
Rae Morris
net-a-porter.com.uk
£370.00
If you're ready to drop some serious cash on your kit, look no further than Rae Morris's 8-piece kit and magnetic plate stand.
Sure, it's basically an artwork and would look incredible on your dressing table, but it's also incredibly high tech (and vegan), with handles made from maple and cherry wood, and bristles made using a micro-crystal and PBT fibres that help increase pick-up of makeup and blending credentials.
This content is created and maintained by a third party, and imported onto this page to help users provide their email addresses. You may be able to find more information about this and similar content at piano.io
Advertisement – Continue Reading Below

https://www.cosmopolitan.com/uk/beauty-hair/reviews/g1191/best-makeup-brushes/